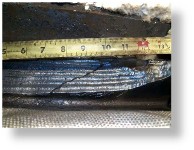 Repair Cracked Gear

Full Case Study
Cracked gear.
The Problem
This view is of a crack running from the root of the tooth to the split line. After dye penetrant testing; Tooth cracked right next to split line approximately 12" long by approximately 2 ½" deep from root of tooth.
The Fix
The gear is covered with ceramic heating pads on and around the area for repair approximately 6' in each direction. It is then covered with K.O. Wool and then a fiber blanket over top the K.O. Wool. This helps in maintaining a very high preheat temperature...
The Results
This repair project was quoted for seven days with four men per 12 hour shift working around the clock at a cost of approximately 16 percent of buying a new gear. Metal Surgery actually finished the job two days early which saved the customer more money.