Brush Plating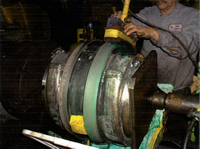 Brush Plating is a process which uses electrical current to plate a desired material from a solution and bond a conductive object with a thin layer of the material, such as metal. Electroplating is primarily used for depositing a layer of material to bestow a desired property (e.g., abrasion and wear resistance, corrosion protection, lubricity, aesthetic qualities, etc.) to a surface that otherwise lacks that property. Another application uses electroplating to build up thickness on undersized parts, from mis-machining or damage, etc.. Brush Plating allows localized areas or entire items to be plated using a brush saturated with plating solution.
Advantages over tank plating
Brush Plating has several advantages over tank plating, including portability, ability to plate items that for some reason cannot be tank plated ( such as items to large for tank plating and items that cannot be removed or dispatched to a tank, low or no masking requirements, and comparatively low plating solution volume requirements. The bond strength in brush plating is over double that of tank plating, where tank plating has 6,000 pounds of bond strength per square inch, brush plating has 14,000 pounds per square inch. Brush Plating also allows a precise amount of material to be applied to a specific area desired, tank plating does not allow that luxury.
Applications
[For thick deposits (1-2.5 mm)]

Resurfacing
Resizing
Metal restoring

[For thin deposits (<0.5 mm)]

Corrosion resistance
Electrical conductivity
Surface hardness
Example of parts in which are Brush Plated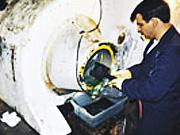 Bearing seats and journals
Bores
Shafts and pistons
Framing and other parts that need corrosive protection
Engines
Printing rolls
Hydraulic cylinders
Housings
Gearboxes
Pumps
Miscellaneous damaged, worn or mis-machined parts