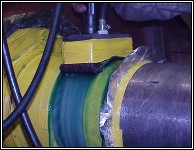 Quill Shaft Repair

Full Case Study
Shaft was damaged due to bearing failure.
The Problem
Bearing failure caused wear and gouges on the shaft surface.
The Fix
Metal Surgery brush plated copper to fill in the gouges, then nickel to plate back to print specifications.
The Results
Shaft repair was a success and the shaft was put back into service.