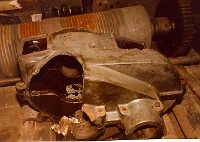 Broken Gear Box 1 Repair

Full Case Study
As this crane was in use, its free hook caught on a stationary piece of equipment, resulting in considerable damage to the gear box.
The Problem
As a result of the crane hook accident, the gear box was broken into 13 pieces.
The Fix
The broken parts are aligned and clamped. Holes are drilled through a jig for precise spacing. Stitches are laid out on the third section. Each piece was subsequently repaired in the same manner.
The Results
After completion of the repair, the gear box was painted and etched to reveal the repair. This irreplaceable part was back in service in one week.